Welcome! We are ready to help you with all of your printing and design needs.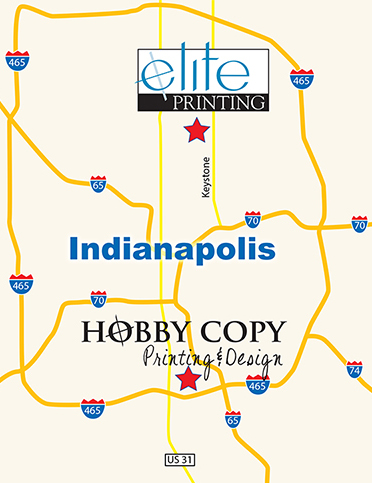 Elite Printing Inc. is a full service printing company. We work hard to meet the needs of our customers. We are a Certified Women Owned Business, family owned and operated since 1986. We have two locations to better serve Indianapolis and the surrounding areas.
We encourage you to take advantage of our skilled marketing and design team. Our marketing and design consultants can help set up your company with an effective marketing plan, custom graphic design, and fast turnaround with exceptional quality. We can also provide suggestions for green and environmentally friendly printing. Let us help you grow your business.
Convenience All Around Indy - 2 locations
Hobby Copy is a division of Elite Printing and is located just south of downtown. You can place your order, pick up or request delivery from either location. Our company is able to provide personalized service to the Greater Indianapolis area as well as drop ship and blind ship across the United States.
Hobby Copy is known for it's specialization in high speed copies and quick turn around. In association with Elite Printing our goal is to provide our customers with expanded print services from both locations. We have the resources to better fulfill all of your printing needs and give you the convenience of one stop shopping.
Coming to Indy for a convention? Plan ahead and have your printing ready when you arrive. Elite Printing is 5 minutes from the Indiana State Fair Grounds. Hobby Copy is 10 minutes from the Indiana Convention Center. Run out of brochures while your visiting, we can deliver during your event.
Please take a moment to look over our vast amount of services and let us know how we can help get your project accomplished. We offer a variety of environmentally friendly options that allow you to promote your company's humanitarian efforts.
Featured Products
With branded gifts and giveaway items, a simple mug or hat can make a big, lasting impression.

Dress your team with class and pride. We can make sure you are represented for the win.

Digital & Offset Printing

With professional design and printing, your business is sure to look sharp. We offer quick turn around on our digital copiers and top quality, PMS color matching on press. From the big idea to the small details, our team has years of experience to get the job done.

Hand delivered printed postcards for the price of a stamp. No postage permit required. No mailing list needed. You can include coupons, menus, calendars, maps, and more. Identify your target area by neighborhood, city, or a specified distance from your business.

Design & Branding

Keep your company unique, consistent and recognizable. Give your company an engaging brand identity through professionally designed letterhead, envelopes, business cards, advertising and promotional materials.